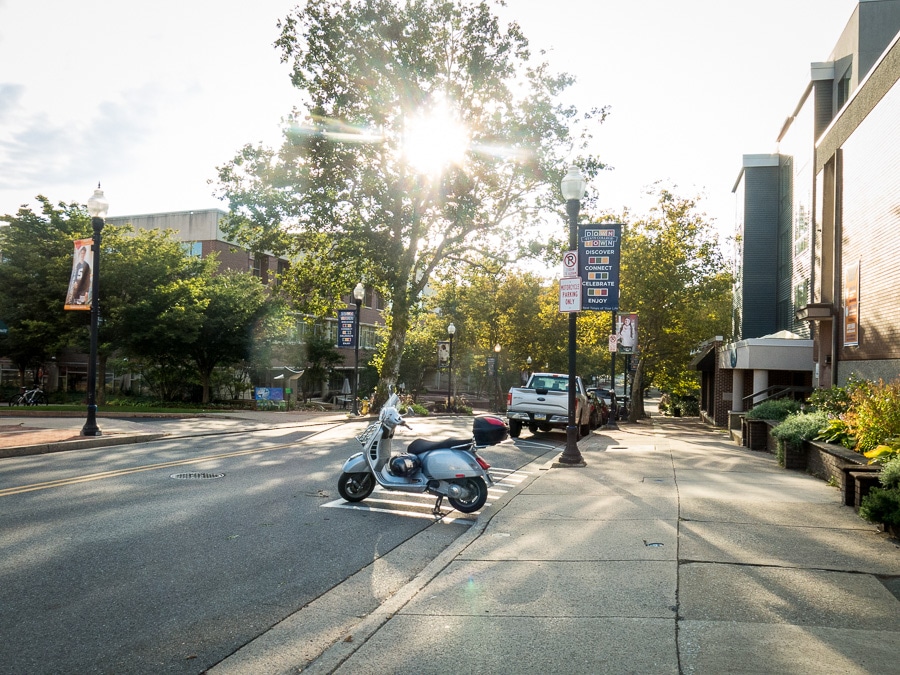 Early in this season of cooler weather it's easy to be tricked by the sun into believing it's warm and pleasant outside. Just as it's been for the past few months. It took a few hundred yards for me to realize I was cold and should have zipped the quilted liner into my Hi-Vis, lime green riding jacket. And long underwear would have brought personal comfort in line with the sun's deception. Such is the challenge of cool weather riding.
Even though 52F isn't really cold, dressing as if it's summer creates a discomfort that whispers to subsequent rides. Like admonitions by doctors to treat pain early and not tough things out and allow the brain to build a pain cycle, the same holds true for riding in the cold. Stay war — early and often.
That's my motto.
And I ignored it.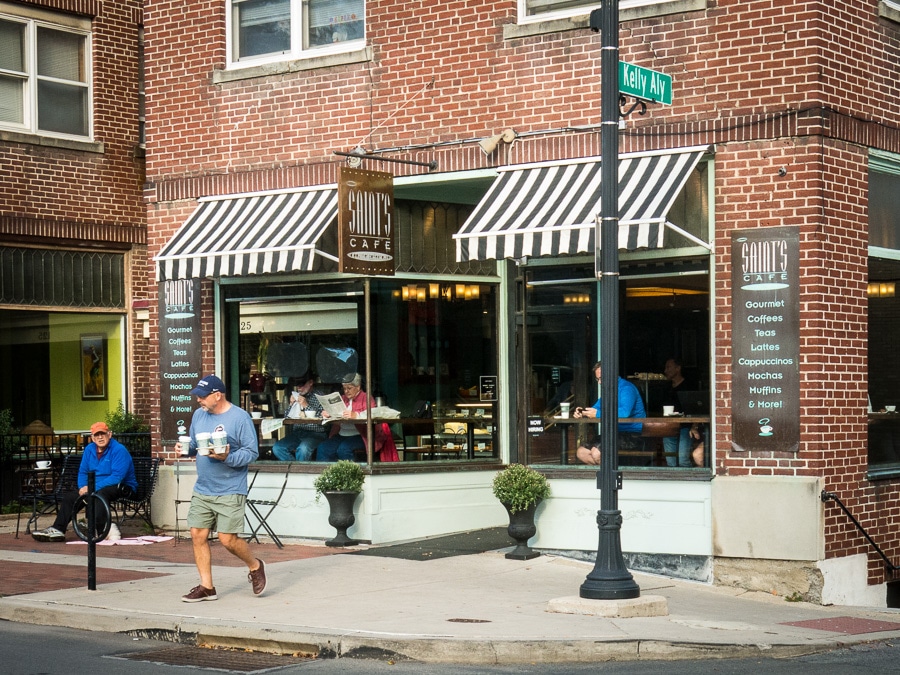 Places of Warmth
Fortunately, I wasn't going far, to Saint's Cafe to meet my friend Paul and talk about photography. The short walk from where I parked the Vespa to the sanctuary of the cafe provided ample time to sense the cold in fingers, feel the touch of chilled fabric on skin, and pray my feet didn't switch from a numb cold to something evil. So goes the concerns of an aging rider.
And all because I failed to seriously evaluate the weather. On a sunny day in late September. A part of the ongoing cold weather riding experience of life and learning on the road. Often, I seem to raise the flag of the dimwitted rider.
In the picture, a man sitting with his dog , well prepared to sit outdoors on a cool morning. Adequate clothing for himself and a thick blanket for his dog to stretch out. And the fellow in shorts is dressed well enough to travel from car to cafe and back again.
The world at 45mph is different. Colder. Unforgiving. The wind chill pushes the apparent temperature down toward 40F. With the gifts of age and a growing cold intolerance, that's cold.
Warm and Steamy
Saint's is cozy and warm, a exquisite flood of marvelous feeling the moment I step through the door. It only increases in power as the temperatures outside drop. It's like relaxing in the shade on a fine summer day.
Mr. Sun continues to work his spell, the sunlight streaming in the windows confirming that extra clothing an unnecessary nuisance. Add a hot drink to the experience and it's a wonder I don't travel naked.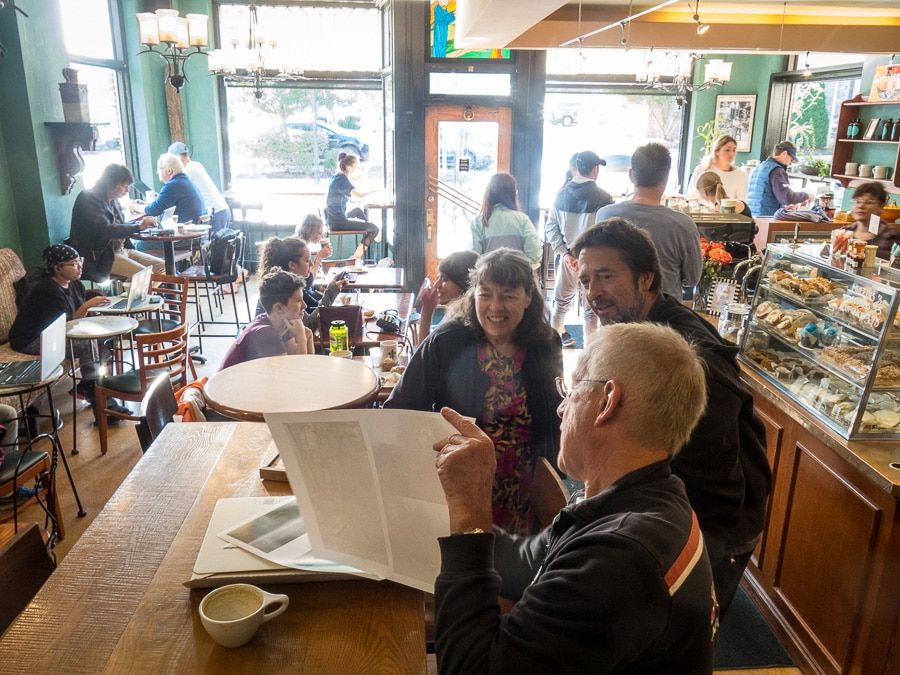 Looking at Photographs
Paul arrived with inkjet prints from a recent photographic outing. I came empty-handed though plan to be in the darkroom soon processing film and making prints.
When the tea pot was empty and the plate decorated by stray crumbs and poppy seeds from a bagel, my thoughts turned toward riding. Sunshine blazed through the windows and I was warm and ready for a little ride before returning home to work.
Ready, willing and prepared.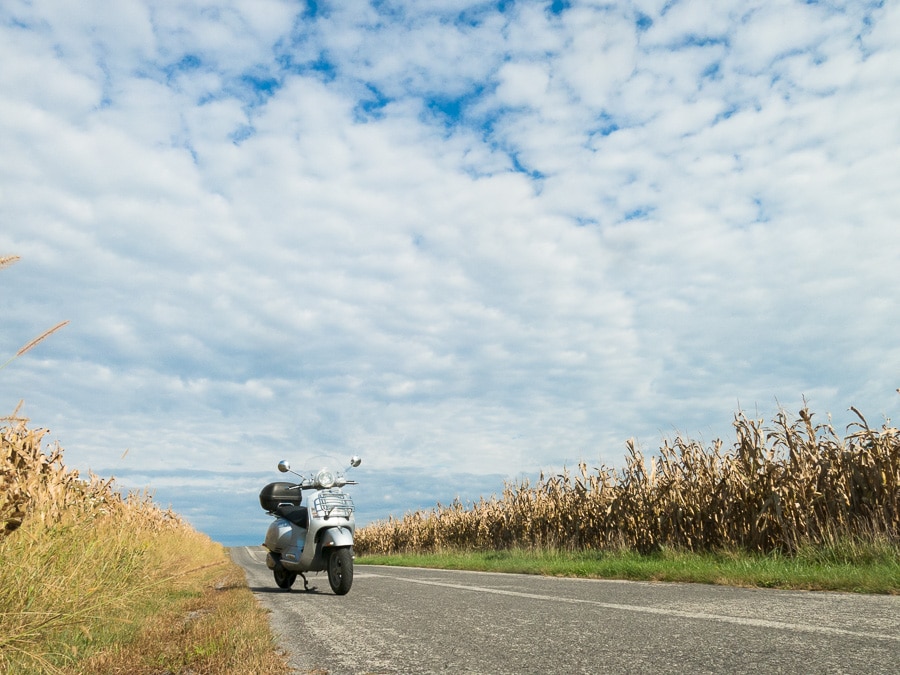 Big Autumn Sky
Late September is the beginning of the riding season for me. Everything begins to come together in terms of light and motivation. The cold is merely an aspect of the ride to manage, much like traffic, route or time of day. On occasion I balk at really cold days, especially as I've gotten older and my body finds staying warm more challenging. And most importantly for me, if I've not adequately tempered mind and body before it gets really cold, I'll have trouble venturing out when it's colder. I ease into the best riding season like I would a cold pool of water when going for a swim.
By the time I left Saint's the temperature had risen five degrees. I blame the bagel I had eaten and the digestive process as the reason I was shivering by the time I stopped to make this autumn sky photograph. Despite my desire to make a photograph, I was cold. And like a dog ignoring the active environment to get to a tasty treat, I kept pressing on to see more, shoot more, despite being cold. Suffer now for pain later.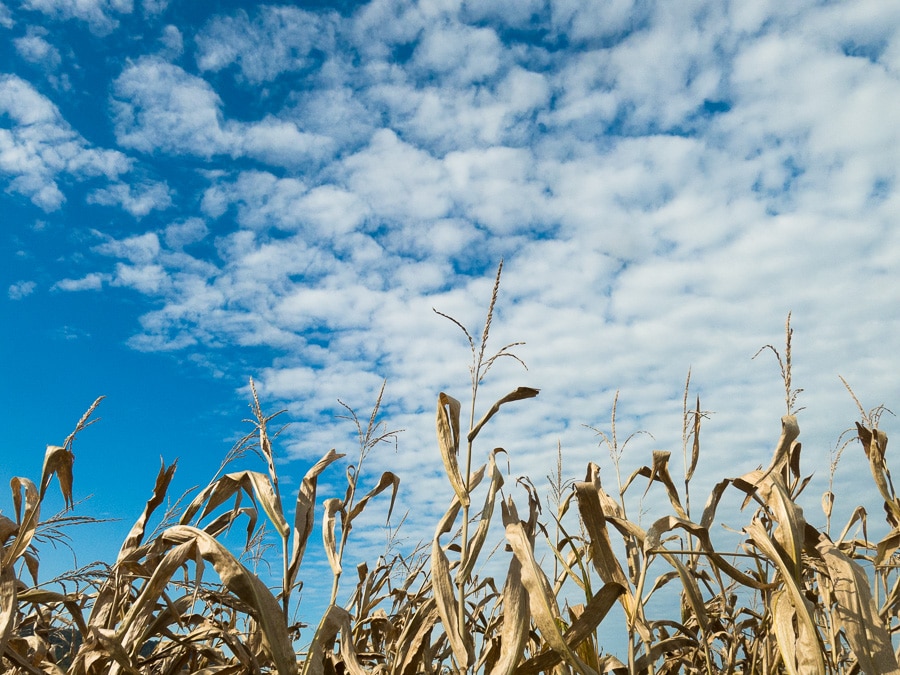 Lessons Learned
Stands of drying corn signals the end of summer and cold weather on the way. It's also a road side reminder to be more deliberate in preparation for a ride, regardless of the distance. For me, a big part of cold weather riding is developing mental toughness. And that's only possible when I toughen my body slowly and gradually. It's not a contest to put up with the cold. It's about keeping it at arms length and remaining comfortable. If I'm cold too many times, I fear I'll park the scooter and wait for warmer weather.
So far, this lapse in judgement regarding how I prepared for this recent little ride has shown no ill effects on my feelings about riding in the cold.