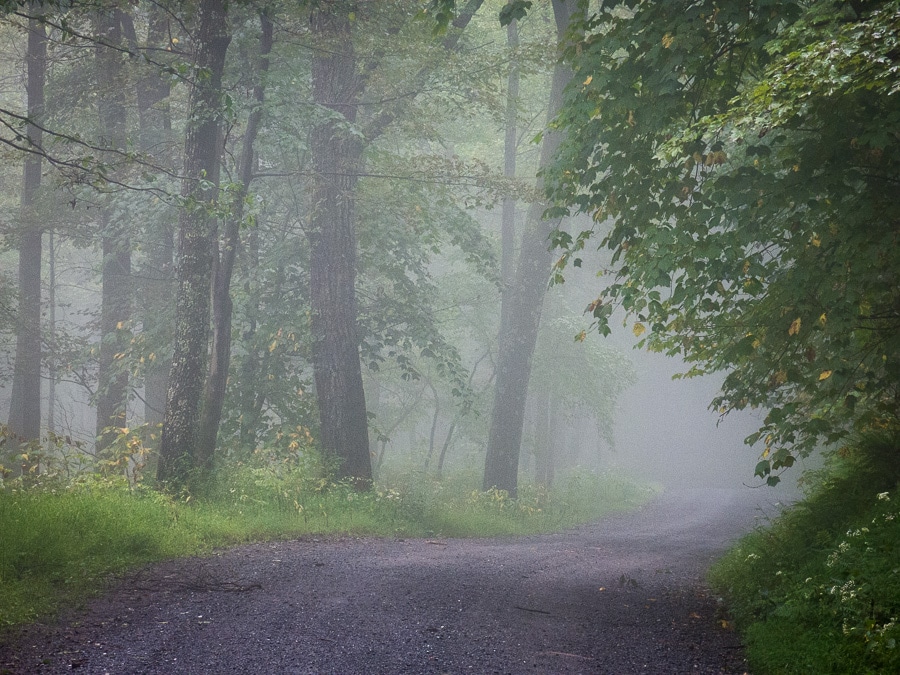 Fog on the Landscape
Summer has melted away and I'm left wondering where it went. Judging from my faint presence here, I've done or accomplished nothing. I've learned to mistrust my judgements of myself. When pressured to make an accounting, often in response to that question while writing in my journal, I'll see the discrepancy between what I tell myself and what actually transpired. Seems I have a refined talent to forget actions and adventures, large and small.
Still, there has been some odd disinterest of late in writing here on Scooter in the Sticks despite continued riding and generating photos and experiences. I can only attribute the phenomenon to the natural ebb and flow of my life.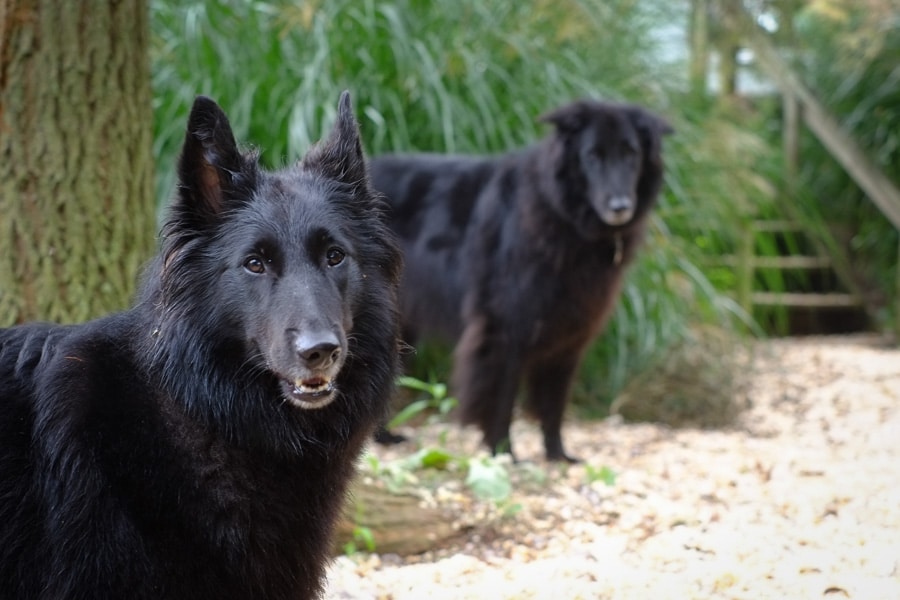 Lily and Junior Interrupted
This post is forced. I've been resisting it since I enjoyed a fine ride on a wet and misty morning a week ago. When I took the dogs outside for their morning walk and saw fog on the mountains I made a brief apology to Junior and Lily for an aborted walk and pushed the Vespa out of the garage and toward the veil of mist and moisture.
It's become obvious to me now that my disinterest in Scooter in the Sticks is a direct result of the photographic ideas in my head that were generated during my exhibit in August. The creative satisfaction derived on the blog was no longer sufficient and I've been preoccupied by the next photo project.
Whatever it might be.
Gordon Harkins
My friend Gordon has a blog called The Urn of Inertia that he created as a place to post the photographs that emerge when carrying a camera. And with the hope that a continual posting of new work might motivate a photographer forward to some new project. He was gracious enough to allow me to post to the site and on and off we both make use of it. 
I've found it helpful. When I utilize it.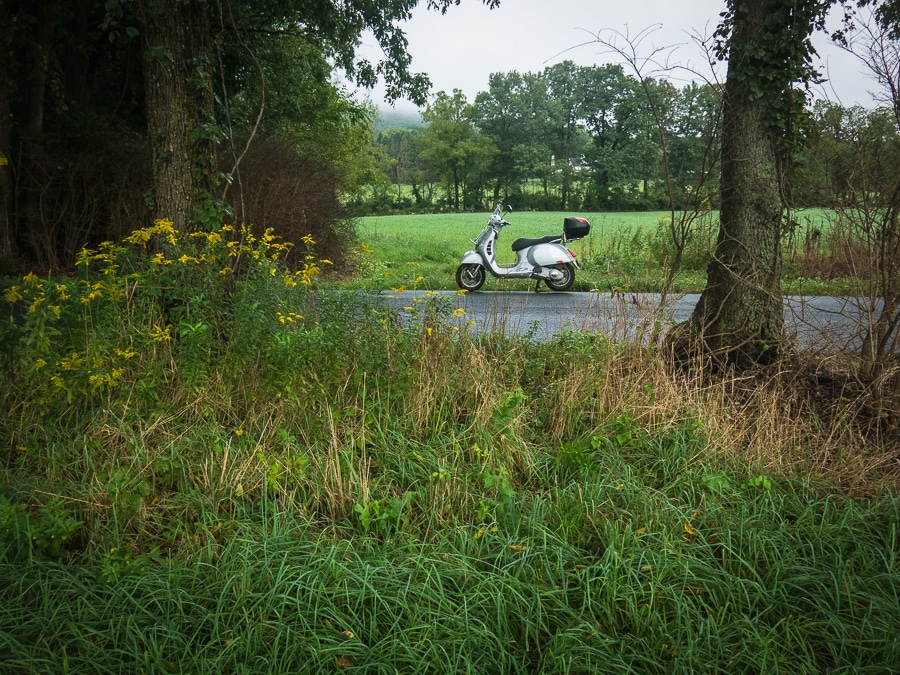 Vespa in the Lush Landscape
The ride was not as foggy as I hoped and as I left the pavement and into the nearby Rothrock State Forest it was apparent that the fog was quickly traveling upwards to become clouds. Still, the ride, and the landscape, it was an exceptionally beautiful morning to ride.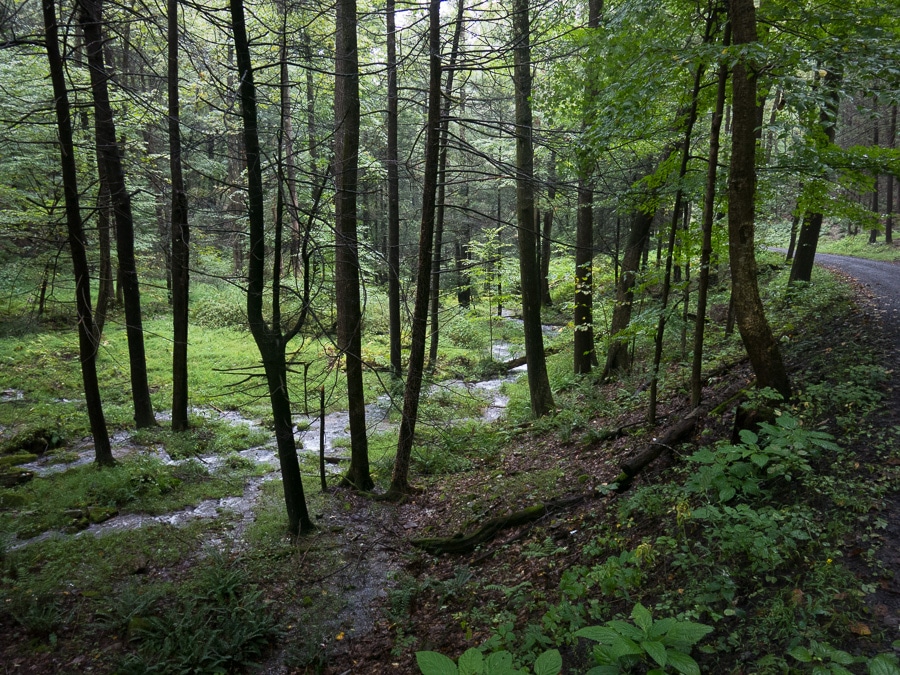 Ribbons of Water in the Forest
Water was everywhere with the remnants of tropical storm Gordon. In all the years I've wandered this forest, I've seldom seen so much water flowing.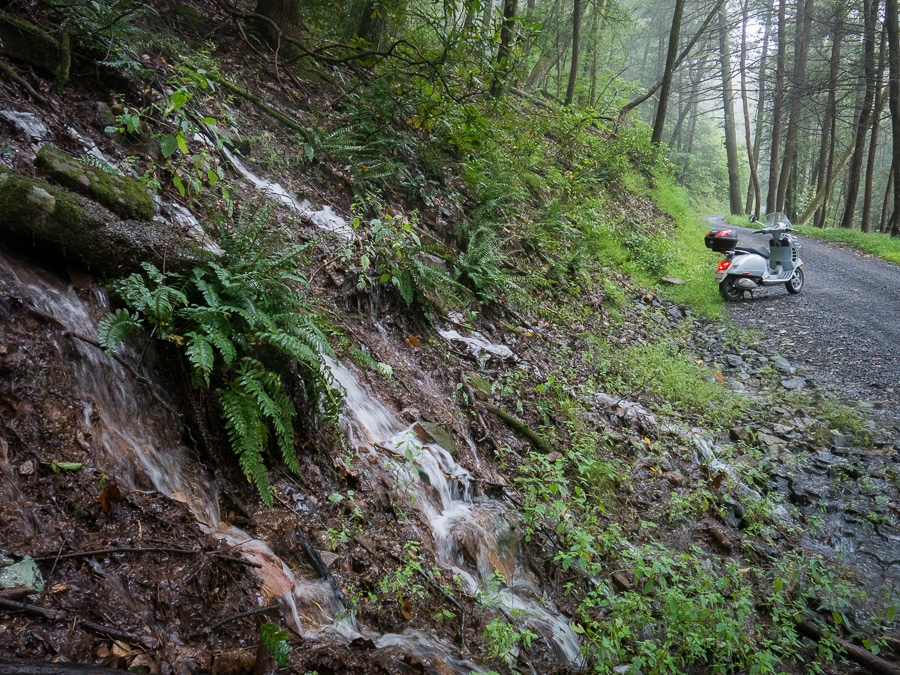 Vespa and Temporary Waterfalls
The forest was alive with the sound of water. Loud as it ran down the mountainsides, and in places higher up, the quieter sound of it dripping from trees.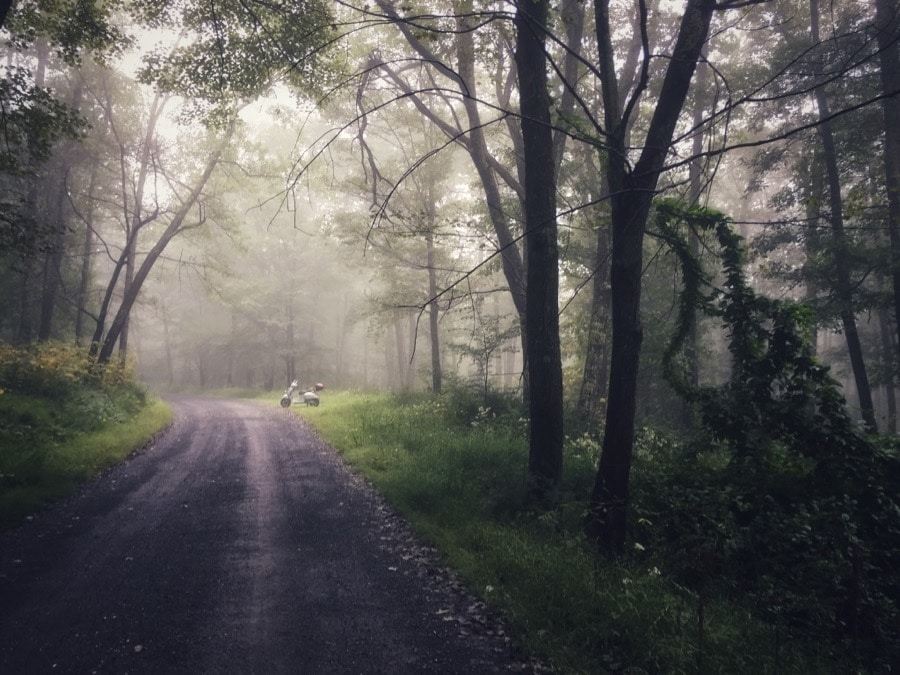 Elves and Vespa Scooters
Fog adds to the feeling of being delightfully alone. And paints the landscape with a brush of magic that fires my imagination. I do believe in elves. I've just not seen one yet. Even though I've been on these roads for close to fifty years, they've not lost their attraction. And I still see things I've not seen before.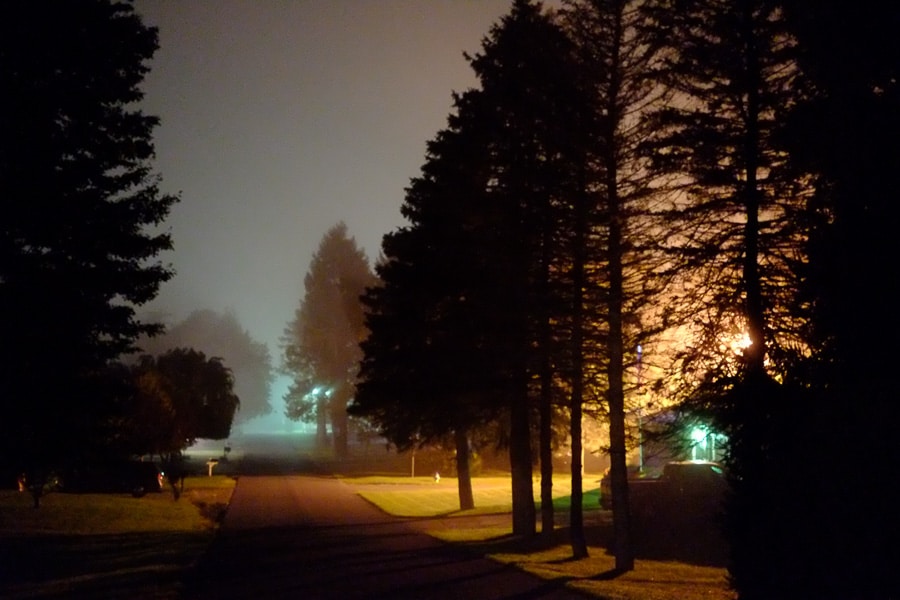 3am in Boalsburg
Kim and I walk the dogs in the evening. Evening stretches from dusk to dawn for us. This walk at 3am provided us with some exercise, the dogs opportunities to read the neighborhood, and a chance for me to experiment with the Fuji Xpro-1 at ISO 25600.
I feel my world beginning to take shape in regard to writing, photography and projects. With that comfort will come easier posting here.
Or so I believe at the moment…